"And when we (to use Alice Walker's lovely phrase) go in search of our mothers' gardens, it's not really to learn who trampled on them or how or even why—we usually know that already. Rather, it's to learn what our mothers planted there, what they thought as they sowed, and how they survived the blighting of so many fruits." -
Sherley Anne Williams
Hiatus hi·a·tus [hīˈādəs]
a pause or gap in a sequence, series, or process.
otherwise known as:
intermission

break

gap

breathing space

rest.
I DON'T HAVE THE F*CKING TIME.
I am a woman, a woman of proven biblical descent, black and child bearing with supernatural capabilities. Of the earth, daughter of the sun.
Nature even calls me "Mother."
Read that sh*t again.
Nah, READ. THAT. SH*T. AGAIN.
It's poetic, isn't it?
It's me. It's you. It's your sister. It's your mother.
Now, explain to me why a creation as definitive as such should accept anything less than the deserving.
I talk to the sun and you have the nerve to dim my light.
I navigate the moon and seasons change at my beckoning.
I'M...
I'M THE SH*T.
So, I don't have time to be meddled with. Do not tamper with me.
MEN.
That's the audience I'm speaking to, first hand.
OTHER BLACK WOMEN.
That's who I'm speaking to, second hand.
It's hell enough surviving life. I shouldn't have to survive the next muthaf*cka!
At this point I'm taking breaks from people, not things.
There's a nigga reeking havoc over some girls life right now and she's surviving him.
There's a black women preying on another black woman, and she's surviving them.
There's a man laying his hands on a woman and she's surviving him.
There are women of the same descent seeking revenge amongst each other and they're surviving it.
There's a black woman at war with her-damn-self and she's surviving her own sh*t.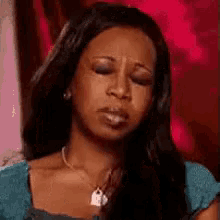 So, Again...
I DON'T HAVE THE F*CKING TIME.


B*tch, I have to save the world, take care of a family, turn a house into a home, survive in an economy that sees me as a deficit, be a lady in the streets and a freak in the sheets...






...Babygweooorrrrrrrrrlllll!


...I'm tiiirrreeeeedddddd!


...I'm hurtiinnnnggggg!


...This wasn't in my job descriptiioooooonnn!








But we're surviving. That's it.
I don't have anything else to say.
What or whom are you surviving?
leave it in the comments.
feedback is appreciated
Favor, Peace & Blessings,
Mimi.